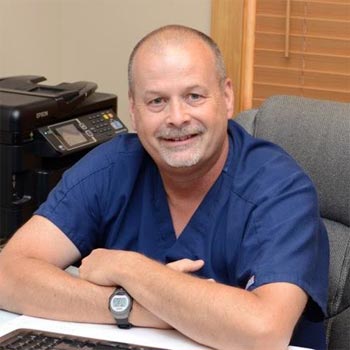 Michael K. Martin, DDS
Dr. Mike Martin is originally from Hot Springs, Arkansas. His family relocated to Gainesville, Georgia in 1967. After graduating from Gainesville High School in 1973, Dr. Martin was accepted to Emory University, where he completed his undergraduate degree and was accepted to Emory School of Dentistry. Dr. Martin received his Doctorate of Dental Surgery (D.D.S.) in 1982. After graduation, he entered private practice; and in 1984, he opened his practice in his current Oakwood location.
For over 35 years, Dr. Martin has practiced dentistry with a philosophy based on his core values of compassionate care, gratitude for his family and professional relationships, and his commitment to excellence in dentistry. He is passionate about learning new technology and techniques and stays abreast of current trends in dentistry through his memberships in the American Dental Association, Georgia Dental Association, and Hall County Dental Association.
Dr. Martin and his wife, Abby, reside in Oakwood. They are the proud parents of their three grown sons, Phillip, Ben, and Andy. Phillip lives in Gainesville, Fl., with his wife, Laura and their son Levi. Phillip is doing postgraduate work in tax law at the University of Florida. Ben lives in Flowery Branch now with his wife, Jill and their daughter, Bailey. Ben has recently joined the practice after finishing a residency in Augusta, Ga. in June 2016. Andy received his masters degree in epidemiology from Tulane University and now lives in Atlanta, Ga. In addition to spending time with their family, Mike and Abby enjoy swimming and traveling.