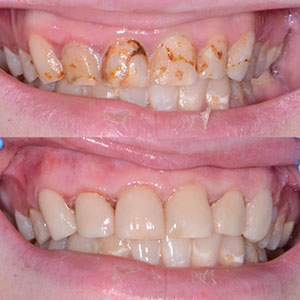 "I would definitely recommend anyone to come Here I'm always nervous to come to the dentist and he makes you feel so comfortable and does such amazing work."
— Ben F.
"Great practice! Everyone is so warm and caring. Cindy is always so helpful with scheduling, Ashton does a fantastic job explaining procedures and assisting, and both Drs. Mike and Ben Martin are super. So glad I began going here for my dental care."
— Joe C.
"This practice is awesome and feels like a family all working together. I had a crown done there yesterday and it was almost fun. Ashton explained every step along the process which kept me from getting anxious and Dr. Ben was very thorough and quick. He and Ashton worked very well together and made sure I was kept comfortable. Great experience. Julie is also a wonderful dental hygienist."
— Keith F.
"After my childhood dentist retried, I was skeptical I would fine another dentist I loved the way I loved him until I started seeing Dr. Martin!! I look forward to my cleanings with Cindy and seeing Dr. Martin. Couldn't ask for better care or better doctors and staff! "
— Michaella H.
"I love this place..hated going to the dentist until I came here...friendly faces that make you feel at ease..love my hygienist Julie...so sweet...and they open 1 or 2 Saturdays a mth..."
— Maria V.
"This dentist is the best dentist I have ever been to. They have worked with me and found new innovative ways to help me. I use to have massive anxiety seeing a dentist and now I look forward to seeing them."
— T.O.C.
"Very professional, warm, and friendly."
— Debbie
"Always have a good experience here. Everyone is always friendly. I have been coming here 13 years. If you have to go to the dentist, Dr. Martin is the one to come to!"
— Ermadine
"I would not use anyone else. My little girl even loves coming to Dr. Martin. He's the BEST!"
— Jenifer
"We love Dr. Martin and his staff! They are super friendly and masterfully efficient. We always recommend Dr. Martin and crew to friends and family."
— The Ezells
"Everybody is friendly and sweet!"
— Andy & Rebecca T.
"Julie makes dental care a pleasure."
— Irwin
"I have seen Dr. Martin and his staff since I was a child (over 20 years) and I refuse to go to anyone else even though I have moved. The entire team works hard to provide the absolute best service!"
— Ivelisse
"Julie did the BEST cleaning I've ever had. All personnel are delightful. I am so excited about having such a super dentist and an excellent staff."
"You all are the most awesome dental staff in Hall County. It is just an encouraging experience to visit Dr. Martin's office."
"I always get a good cleaning and Dr. Martin and team have kept me from having any new cavities in 25 years of coming here."
— Jeanne