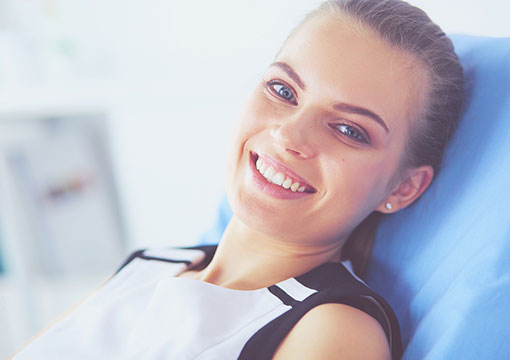 Sedation Dentistry
Dental sedation options can allow patients to receive the care they need in fewer appointments, while in a fully relaxed state.
If you are in need of extensive dental treatment, or experience a high level of anxiety during dental procedures, sedation dentistry can ease the treatment process during your visit.
Dental Sedation Options include:
Nitrous Oxide
Nitrous oxide, or "laughing gas", is mixed with oxygen and breathed through a nose mask during the dental procedure. Nitrous oxide has a mildly relaxing effect, but does not put you to sleep; you can respond to questions and instructions from your dentist. Nitrous oxide sedation may be used for adults and children and can be helpful for patients that are anxious or have a strong gag reflex during dental treatment. The effects of nitrous oxide wear off shortly after the mask is removed.
Oral Sedation
Prescribed sedative medication is taken orally the morning of your appointment to put you in a relaxed state. We will make you comfortable in our treatment area and perform the procedure(s) while you are sedated. You will be awake and able to communicate, but will not likely remember much about the experience, as the medication can have an amnesic effect. You will be closely monitored during the procedure to ensure that you are completely comfortable.
IV Sedation
Dr. Ben Martin has completed the required training and is certified to provide IV sedation for dentistry in the State of Georgia. IV sedation is often used for surgical dental procedures, or longer restorative appointments, to allow the patient to be in fully relaxed for the duration of their treatment. This type of sedation is accomplished through a combination of medications that are administered intravenously. IV sedation is safe and effective, and provides you with a deeper state of relaxation similar to sleep, although it is not general sedation.
For Your Comfort
The effects of oral and IV sedation may take longer to wear off than nitrous oxide. We ask that someone drive you to and from our office, and recommend they stay with you until you have recovered from the effects of the sedative.
Don't put off necessary dental treatment.
Sedation dentistry options are available to help you overcome the obstacles in your path to restoring your dental health. Contact Us for more information about sedation dentistry.